The Swiss software company coresystems AG celebrated its Partner Day last weekend. As was to be expected, the add-on producers for SAP Business One also approached this topic a little differently than others.
0
Keynote with fun interludes
Already the Keynote was not the usual review and outlook, but was interspersed with sketch interludes, in which primarily Yann Stähli as a cleaner could prove that he could also earn a living as an actor.
However, there is probably no reason to change at the moment, since the development of the coresystems, the Manuel Grenacher presented, is nevertheless quite impressive. The Swiss first appeared on the "SAP horizon" in 2006 with 10 employees. Today, they have over 70 employees serving 5,000 customers.
From the mobile cloud to the integration platform
Where this fast train is heading became clear from the further remarks of the coresystems CEO. Above all, the coresuite cloud will be a focus of the next activities. In the future, this will not only be the basis for the exchange of data between mobile apps and business applications. Rather, the "cloud" operated by Amazon is to develop as a data hub between the most diverse systems. Of course, this integration platform needs one thing first: as many connectors as possible to as many business applications as possible. To this end, coresystems is now inviting partners to build these bridges and, in return, to share in the added value that arises.
Roadmap for the next 3 years
The concrete roadmap for the coresuite cloud was presented by CTO Yves Senn
2011 the supply of the field service with mobile functions is basically complete for sales and service. There will still be some enhancements in the handling of user-defined fields.
2012 new POS functions such as receipt creation, electronic payment procedures and reporting for smartphones and iPads. Furthermore, there will be project planning, working time account management and release procedures. In addition, services such as Zendesk and D&B are to be added. databases be integrated.
Until 2013: the coresuite cloud should then be a fully-fledged business integration platform that allows the most diverse systems to communicate with each other and exchange data.
and then ... Hum Hum
In addition to workshops and excellent catering, coresystems also had a special treat in shop for the guests. A whole fleet of exquisite cars such as Lamborghini, Ferrari and Porsche was available for an iPad-controlled scavenger hunt on Swiss roads. The biggest challenge, however, was not to commit any speeding offences.
Some SAP employees were there too... I could imagine that they discussed on the way home how they could top that ?
© 2011 | Versino Projects Gmbh
---
MARIProject for SAP Business One has been released in a new version 7.1.000 and is available as an update. As always, there are ...
Continue reading ?
All sorts of requirements for SAP Business One - Reporting are what a user needs to do after the introduction of SAP B1...
Continue reading ?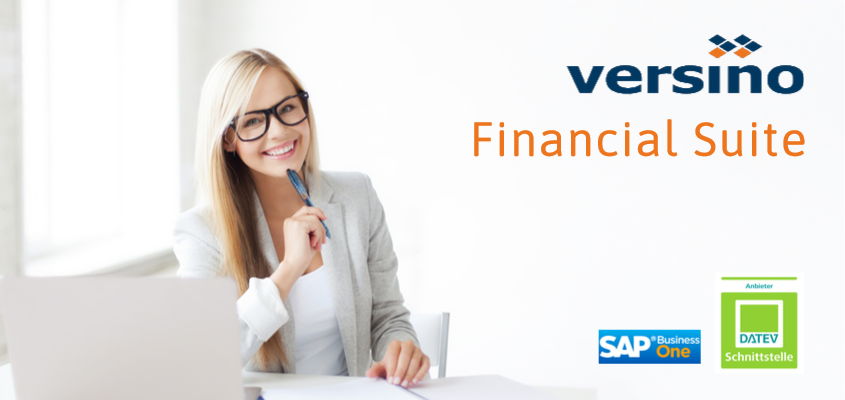 Initially "only" a bidirectional interface to DATEV finance was planned. But when we talked about this development with more and more ...
Continue reading ?
Versino AG and ISTOS GmbH PPS cooperation SAP Businesss One offers all basic functions for production control for medium-sized companies as standard ...
Continue reading ?
Taken by itself, the term "consolidation" simply means that one brings a certain fact into context. In the world ...
Continue reading ?
A balance confirmation makes it possible to check the correct amount of receivables and payables to your business partners. With the Versino...
Continue reading ?
SAP Business One has had distinctive functionalities for creating dashboards since version 9 at the latest. But also MARIProject, integrated project software ...
Continue reading ?
From February 2022, users of SAP Business One must also use the new ELSTER Rich Client (ERiC) version 35.2.8.0 ...
Continue reading ?
Especially in times of increasing e-commerce, the shipping process plays an increasingly important role in merchandise management. The...
Continue reading ?
COBI.wms is mobile warehouse software for handling warehouse and logistics processes for SAP Business One. As a reliable...
Continue reading ?
0