EDI - Connection for SAP Business One was previously only possible with solutions from partners. Now SAP also provides its own integrated platform for EDI for B1.
Some time ago, a company acquisition went through without attracting much attention. In November, SAP had already acquired the German company crossgate was taken over. This was another important addition to the portfolio of the Walldorf-based group. crossgate has taken up the cause of (QUOTE) "...Electronic business partner integration, as easy and inexpensive as downloading songs from iTunes..." to make.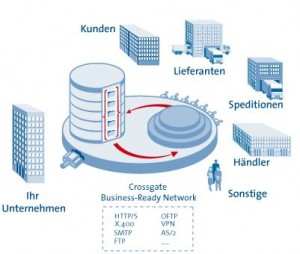 At CeBIT, it was announced that this will also be of far-reaching significance for SAP Business One. The crossgate functions are soon to become a part of SAP b1i and thus be available to all SAP Business One users.
Also exciting are the industry-specific Solutions. Thus stand EDI - (Electronic data interchange) available for the following sectors:
Automotive
Biochemistry
Chemistry
Manufacturing industry
Trade
Consumer goods
High-Tech
Logistics / Transport
Petrochemistry
© 2012 | Versino Projects GmbH
---
0