Rainer Zinow (SAP) has published a video regarding SAP Business One 2023. As in previous years, the presentation is intended to provide information about the plans for SAP B1, which are to be realized in 2023.
A brief look back at 2022
The pandemic as a brake
Mr. Zinow begins with a brief review of the year 2022, in which the head of product for SBO freely admits that the release dates that had actually been promised were not kept to particularly well. This was mainly due to the Corona pandemic. This had necessitated the establishment of an additional team in China to support the development of the Web clients to drive forward the project. However, the problem has been solved for SAP Business One 2023.
Increased effort in cyber security
What was also noticeable in 2022, with the start of the war in Ukraine, according to SAP, was an increase in attacks on cyber infrastructure. This led to the need to further improve product standards. Originally intended only for the public cloud, where we were expected to see the most attacks, it was decided to apply them to all SAP solutions, including SAP B1. This effort has probably also now resulted in SAP B1 2023 being on par with SBO 2022/8 in January.
SAP Strategy 2023
Always stay on top of the times
There is an overarching strategy at SAP, says Zinow: "Our most important commitment, especially with Business One and Business by Design, but also with S4 (HANA), is to keep the core stable." This applies in particular with regard to regulatory compliance and security, he says. At the same time, you have to make sure you provide the best possible infrastructure. And that includes not only SAP, SAP partners offering SAP B1 2023 in a cloud-based form. To that end, work also continues on the technical structure of SAP Business One to meet the cloud requirements of the future. This includes developing solutions on the SAP BTP that work equally for all SAP platforms. Such was delivered for the first time in 2022.
Carbon footprint solution for SAP Business One 2023
One such solution comes from SAP. A solution for managing the CO? footprint was deliberately chosen because this solution would have been desired in all three SAP solutions. Producing and product-oriented companies are supposed to get a quick insight into the CO? footprint of individual products. The first version was delivered in May this year. Now these functions will also be available for SBO 2023.
Platform and API open for SAP partners
SAP is looking for cooperation with SAP partners for the strategy described. The APIs are available and partners are helped to get extensions up and running. The strategy for the future is to build similar business solutions, and carbon footprint management is just the beginning. They are currently working on the topic of cryptocurrencies.
SAP Business One 2023 Strategy
SAP B1 2023 - as successful as ever
According to Rainer Zinow, SAP realises the value of SBO. It is still the SAP software that brings in the most new customers. With over 75,000 installations sold and 1.2 million users, these figures speak for themselves. This obliges SAP to keep the application attractive, up to date and legally compliant. The roadmap for 2023 has been published, but this does not rule out the possibility that one or the other topic will be added or changes will occur.
In this context, Rainer Zinow emphasises the importance of cooperation with the SAP Business One partners. Obviously, their influence is not small, as they were jointly responsible for the SAP B1 resources being increased by the board in 2023.
The SAP Business One Web Client - still a central topic in 2023
"I would say that I am a good 50 % done with the overall scope I want to achieve", says Rainer Zinow about the current status of the SBO Web Client. The analysis function built into the web interface has come a long way. It is also mentioned elsewhere that the interfaces of the SAP solutions are to be further standardised. There are new designs that should appeal to Apple users.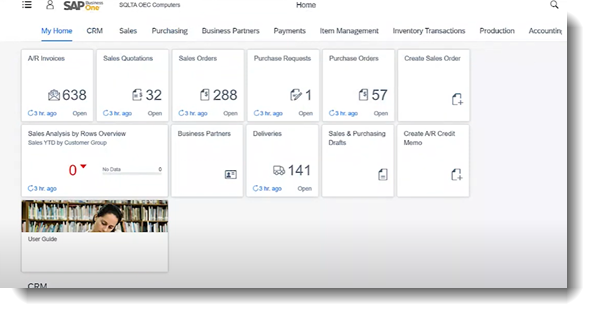 Artificial intelligence also for SAP Business One
Everything to do with machine learning and artificial intelligence is to be pursued, and the advantages of artificial intelligence, machine learning and automation are to be made available to users. The first steps have already been taken. The service for recognising supplier invoices is cited here as an example. According to Analytics functions automation scenarios are now on the agenda. This refers to bots, for example, the processes that now still have many intermediate steps where humans have to intervene.
More single sign-on for SAP B1
One of the topics from the security area was to enable identity and authentication management based on single sign-on technologies. This has already been implemented for numerous SAP Busines One services, but will be further expanded in 2023.
Extensibility of the web client
SAP is aware, says Zinow, that the "secret recipe" for SBO is extensibility and partner solutions. There are also to be additional solutions for this with the web client. In addition to user-defined fields, new tabs with new functions are also to become possible in 2023.
Invitation to the SAP BTP - Business Technology Plattfom
It also applies to SAP Business One that all additional developments should be based on SAP BTP. The uniform and open data and development platform for the entire SAP ecosystem in the cloud seems to be one of the central topics for 2023. In the video, the question is asked why one should switch to the SAP cloud platform if one already has a lot of experience with Amazon, Google Cloud, Microsoft Azure or Ali Cloud. A weighty argument in favour of this, he says, is that when an SAP customer buys an extension, he implicitly expects to get an extension that meets the same security requirements as the SAP application. The customer would also expect a similar look-and-feel to be available on the user interface. And also one would have to guarantee the same standards as SAP exemplifies regarding data compliance and the data regulation GDPR.
All this can be realised with the framework provided by SAP, which "inherits" these properties to the developments created on it.
As a standard ERP, SAP Business One is designed to cover as many requirements as possible in a wide range of industries with its functions. This ...

A new video from Maringo shows the use of MariProject in customer service ...

MariProject covers more and more areas in its target industries with new functions. Service companies, companies from the IT sector but also plant engineers ...

That MariProject is a powerful extension for SAP Business One should be well known to everyone who follows our blog. Less ...

There is indeed a wide range of software tools that companies need. Although mainly for the IT and software industry (in the ...

A new version of MariProject for SAP Business One is available. Again, a lot of new features and possibilities have been added ...