The SAP Business One Service Module is primarily intended for companies that sell goods and services, offer customers contracts or support agreements, receive calls from customers or suppliers who want a promotion or support within the company (e.g. offers or complaints).
The service structure in contains some elements that are very highly integrated. The base in SAP Business One The service contract is the basis for this. Service calls can be recorded and processed on this data basis. Furthermore, an entry is made in the master data of the customer equipment when serial number items are delivered.
The service contract in SAP Business One
The basis for services within a service in SAP Business One is the corresponding service contract. Such must exist for a customer if he is to receive services in SAP. Such service contracts can also be created as templates and then individually designed for each customer.
You can store such support contracts or warranty contracts for any item or service in the system for customers. A contract has a term that is determined by a start date and an end date. In addition, contractual conditions are stored, which regulate processing periods, among other things.
Master data customer equipment in service
If a delivery (delivery note) or an outgoing invoice to a customer, an item is delivered that is managed with a serial number, a so-called customer equipment is automatically created in SAP Business One. This makes it possible to track which products, devices, licences, etc. are used by which customers.
Service calls in SAP Business One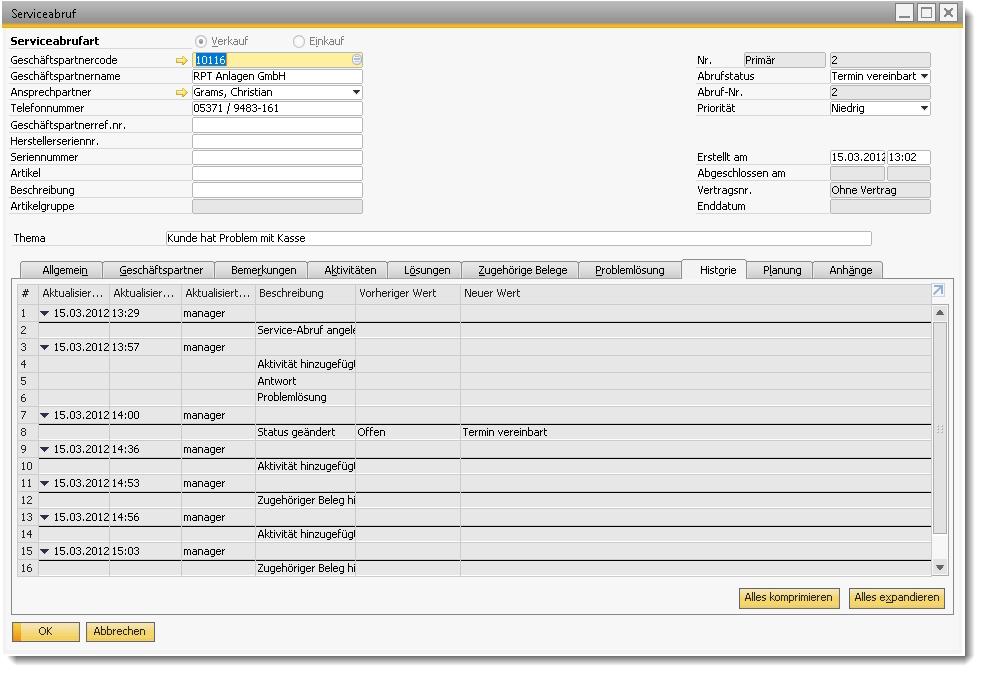 A service call can be initiated by a customer or supplier through a call, email, web portal or other type of communication and documented in SAP Business One. In the process, all activities, solutions, resourcesThe system records all service calls, issues, documents, etc. Reporting functions allow the service calls documented in the system to be filtered and displayed according to specific criteria. Service calls can thus be viewed from different angles. This can be a specific queue, technician, problem type, priority, article or status or due dates, or time ranges.
Furthermore, there are functions that display the number of open, overdue service calls as a service monitor.
Service solution database
The solutions documented in the service calls in relation to the customers' problems are stored in a central solution database. The description of the causes and the details of the solution can be stored there along with attachments.
activities and scheduling
Activities can be generated directly from service calls. This can control any kind of activities, tasks in or outside of SAP Business One, customer visits, meetings or document creation, etc.
Mobile Service APP for SAP Business One
The SAP Business One Service mobile app enables field technicians to deliver on-site services easily and efficiently using an Android or iOS device. The SAP Business One Service app, which runs on both HANA- as well as SQL platforms, enables field service technicians:
View service tickets and sync appointments with your calendar
View, edit, close, share and print service tickets
View details on service contracts and warranties
Call customers and view customer locations on a map
Scan barcodes or QR codes to identify items and update information
Easy check-in and check-out of service calls with automatic time stamp and geolocation
Attaching photos and customer signatures to the service call-off
Viewing documents related to the service call, e.g. a user manual
Display, edit and create customer orders in connection with the service call-off
Display of key performance indicators (HANA version only)
Monthly closed tickets
Annual In-Service Rate
The five most frequently repaired items
The five most visited customers
Whether you're short on time, expecting an important email, or traumatized by Windows, the truth is...

People are different. Customers also have different needs as to how and when they want to get in touch with your IT service providers...

We reported elsewhere how MariProject also comes up with a professional support desk software. The industry solution for SAP ...

If you ask Google, the question about the SAP Business One manual ranks at the top when it comes to the SAP ...

There are indeed a wide variety of software tools that businesses need. Although mainly for the IT and software industry (in ...

With the new version of SAP Business One 9.2 there are many innovations that will cause potential customers to get closer to ...